Center for Life Empowerment
The Young Women's Christian Association (YWCA) of Fort Dodge has been in existence since 1909, and at its current location since 1914. The three-story building was originally designed to house permanent and transient women. With dorm style private housing throughout, residents shared kitchen, laundry, bath and lounge space. The building also included club rooms and a gymnasium with showers. Thirty-six rooms were available for rent by women coming into the community for education and employment. From 1915 o 1943, the YWCA Cafeteria served 3 meal daily. The cafeteria continued serving meals until 1961. During its peak of operation, the YWCA Cafeteria was recognized as a social center or motorists and the traveling public.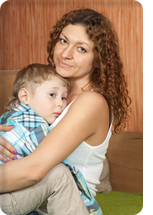 YWCA programs and offerings have evolved with the changing needs and interests of women and girls in the area. Early classes and clubs involved "working girls." The YWCA began the Fort Dodge Business and Professional Women's Club, the Fort Dodge Business Girl's Club, and the Young Adult Club. The woman's movement saw great participation by the Girl Reserves in Fort Dodge, and most notably the Black Girl Reserves. From their inception, YWCA programs have been visionary -- encouraging every woman and girl to perform at her maximum level to achieve self-sufficiency, maintain healthy habits, empower herself and work toward resolving racial justice issues.
Today, the YWCA Center for Life Empowerment operates a Licensed Residential Treatment Center for women and children. Outpatient services are offered to men as well.
The YWCA has served thousands of women and children in its 100+ years in Fort Dodge, and will continue to serve for many years to come. People's lives are affected by our presence every day through our substance abuse programming.